Technology Upgrades Convert Municipal Waste and Wastewater Plants into Energy, Revenue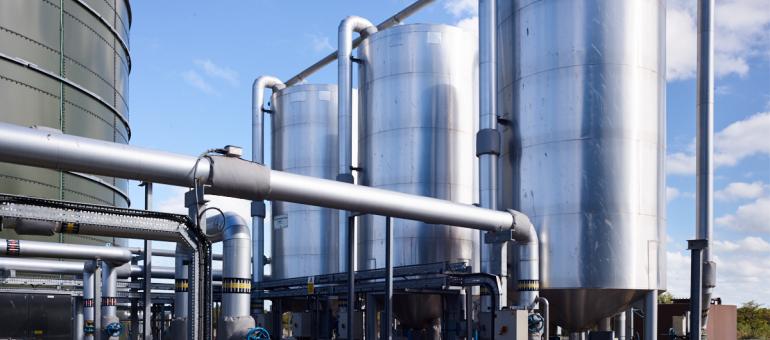 Technology Upgrades Convert Municipal Waste and Wastewater Plants into Energy, Revenue
Municipal waste and wastewater treatment plants are necessary infrastructure requirements for urban development. While this infrastructure is vital, it requires significant money and resources. Fees for water discharge, electricity, chemicals, staff, maintenance, and sludge transport and disposal quickly add up. Not only do these plants require a large amount of energy to operate (electricity can make up 25-40% of the overall operating budget), they also can contribute a significant amount of greenhouse gas (GHG) emissions.
However, established technologies, such as anaerobic digestion, can add efficiency and turn municipal waste and wastewater plants into resource recovery factories. This will generate additional revenue streams, offset energy usage, and reduce GHG emissions, benefiting plant operators and communities.
Creating more value from waste
Anaerobic digestion is a biological process (in the absence of oxygen) in which bacteria breaks down organic matter - such as wastewater sludge, food waste from commercial and residential sources, high strength liquid wastes (e.g., fats, oils, greases, etc.) - and converts them into biogas, a renewable energy source and a nutrient-rich digestate that can be beneficially reused.
Biogas contains about 60% methane and is an excellent renewable energy source that can be used onsite to power wastewater treatment plants and offset energy import requirements. Biogas can also be treated further and purified to make renewable natural gas (RNG), which can be injected into the national pipeline grid and sold at a premium for its environmental benefits to create a recurring revenue stream for plant owners. Furthermore, the digestate is a nutrient-rich material, which can be treated to make fertilizer - another byproduct that can be sold to generate additional income for plant owners.
Anaerobic digestion is an established technology commonly used to break down sewage sludge and stabilize biosolids at many wastewater treatment plants worldwide. In the U.S. alone, over 1,200 domestic wastewater treatment plants use anaerobic digestion in their process.
In recent years, we've also seen more cities begin to leverage anaerobic digestion to divert organic food waste from landfills, which only helps multiply anaerobic digestion's impact on renewable energy production, reducing GHG emissions and increasing revenue generation. Instead of letting organic food waste naturally decompose in the landfills and emit GHG, anaerobic digestion breaks down the organics in a controlled manner without emissions.
In Europe, the food waste digestion market is more developed and commercialized due to organic landfill diversion regulations and premiums paid for renewable energy. In addition, some of Canada's largest cities are in the process of implementing dedicated anaerobic digestion facilities for the conversion of residential source-separated organics into renewable energy.
How communities are benefitting
The Oakland wastewater treatment plant in Topeka, Kansas, generates up to 530 SCFM of pipeline ready RNG each year thanks to SUEZ's membrane biogas upgrading system installation. The project offsets the operating costs at the plant and generates additional revenue from the sale of RNG.
The City of Montreal has set an ambitious goal to cut GHG emissions by 80% before 2050. To help it get there, the city's newest organic waste treatment center will be outfitted with SUEZ's suite of Advanced Anaerobic Digestion Technology. The facility will divert 60,000 tons of organic waste from local landfills, transforming what was once GHG emitting waste into pipeline-quality RNG and avoiding 150,000 tons of carbon dioxide equivalent per year. This represents enough thermal energy to heat over 27,000 homes.
Overall, SUEZ has installed over 45 anaerobic digestion solutions and more than 600 digesters equipment installations globally. Each year these solutions divert over a million tons of organics from landfills, reduce more than two million tons of carbon dioxide equivalent, and produce over 2.5 million gigajoules of renewable energy.
SUEZ's process provides a holistic approach that takes anaerobic digestion solutions to a new level. Its entire system or any one of its components can transform wastewater or waste plants into resource recovery factories or optimize other anaerobic digestion technologies. To learn more about SUEZ's biowaste technologies, visit here.