Decentralizing Pharmaceutical Water Testing Reduces Risk and Enables Stronger Data Integrity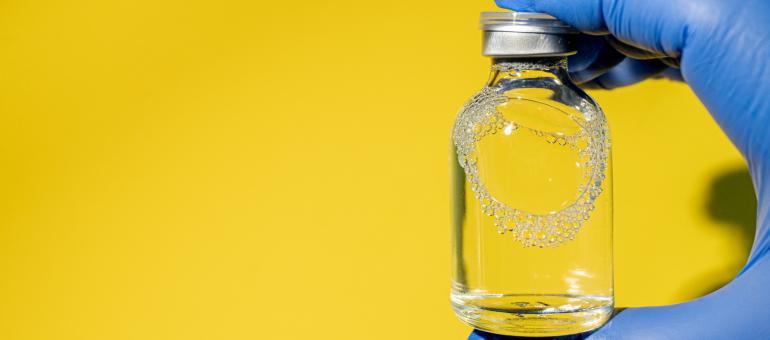 The pharmaceutical industry is quickly decentralizing. More major pharmaceutical players are incorporating Blockchain technology for secure communications up and down the supply chain. Advances in cell and gene therapy and precision medicine require remote capabilities. Decentralized clinical trials (DCT) have fast-tracked vaccines and boosters to help prevent serious illness worldwide. Decentralization can also improve the efficiency and integrity of water quality testing. 
Those who received COVID-19 shots and boosters likely didn't think much about the quality of water that went into manufacturing the vaccines. 
Water quality, however, is a cornerstone of pharmaceutical production. Whether used as an ingredient or for processing, formulation, reagents, intermediates, or cleaning, water is fundamental in adhering to Current Good Manufacturing Practices (CGMPs) – the primary regulatory standard for ensuring pharmaceutical quality – and must be monitored as such.
Decentralized water quality testing, enabled by technology, can ensure pharmaceutical manufacturers meet every regulatory expectation with maximum efficiency.
Real-time testing is now within reach
Keeping up with regulations can be daunting for manufacturers, particularly those with older testing instruments and processes that can lead to more complex challenges and impede efficiency. But they're always seeking better ways to accomplish their daily, weekly, or monthly water testing requirements by incorporating innovative technologies that keep up with industry trends such as decentralized water quality testing. 
That's why real-time testing (RTT), or real-time release testing (RTRT), has quickly moved to the forefront of water testing today and will likely be a core focus for the next several years. Right now, real-time testing for online water release is only available for two of the four compendial parameters – total organic carbon (TOC) and conductivity. Traditional testing processes are still being used for endotoxin, with a typical turnaround time to results of 1 hour, and bioburden testing, with typical results in 3-7 days. For these parameters, a shift to automated endotoxin testing and rapid microbial detection demonstrates significant forward progress in the industry's drive for faster, easier analysis. 
Along with real-time testing, automation, and rapid monitoring, processes for testing data reviews and approvals must also be streamlined. The pandemic spurred the adoption of various software and tools that enabled work to continue in a distributed and remote environment. During this time, many pharmaceutical manufacturers implemented software that enabled testing sign-off to happen remotely instead of at the lab, enabling them to keep pace with the speed of innovation demanded, while maintaining safety and compliance requirements. 
Real-time testing maximizes productivity with streamlined data reviews and sign-offs, but companies must achieve this without compromising compliance or patient safety. That means putting the proper monitoring systems and process controls in place. Managing risk will be increasingly important as established pharmaceutical players and drug development startups adopt these new technologies to streamline quality control practices.
To drive adoption of real-time testing and software tools, technology providers should deliver validation support and protocols for prospective pharmaceutical customers, assisting with risk analysis and bridge studies along the way to accelerate the implementation process.
Maintaining data integrity while driving productivity gains
Data integrity remains a key requirement for the pharmaceutical industry even through the transition to automated water quality testing. Facilities must assure data integrity for compliance and its role in patient safety, without sacrificing the efficiency and productivity they need to keep up with today's production demands. 
The ability to easily manage electronic data and metadata from a single repository is often a specification for new software in pharmaceutical manufacturing. Previously, instrumentation was tied to one computer in a lab, and results could only be reviewed and approved from that specific location. Even with the review of data, traditional lab-based testing is susceptible to human error and data integrity risks. A more precise and automated audit trail, for example, helps monitor human error and provides a more complete view of potential vulnerabilities.
The ability to review and trend real-time data simplifies processes, allowing release testing to happen much faster through secure, encrypted data transfer. Digitally signing records with unique user signatures, for example, results in even faster record review.
An elite software solution for real-time testing
Sievers* DataShare Elite software is an example of the power of testing that can be managed from a single dashboard anywhere. This technology allows global customers the ability to manage data from any site and review regularly, all while maintaining data integrity and achieving 21 CFR Part 11 compliance. For now, the software is a great tool for maintaining TOC and conductivity data, but who knows what the future holds?
Learn more about how SUEZ - Water Technologies & Solutions can help your organization improve data integrity and efficiency of compendial water testing with DataShare Elite, serving a faster, more precise future of pharma.
As the industry looks to decentralize more of its operations, patients around the world stand to benefit from decreased time to market and more effective treatments.

*Trademark of SUEZ; may be registered in one or more countries.