The Winflows design software is an intuitive and user-friendly simulation program that allows users to quickly design simple or complex reverse osmosis (RO), nanofiltration (NF), and electrodeionization (EDI) systems. The software provides exposure to Veolia's spiral wound RO/NF membranes and E-Cell EDI stacks along with extensive cartridge filters products as well as pre-engineered NF and RO systems.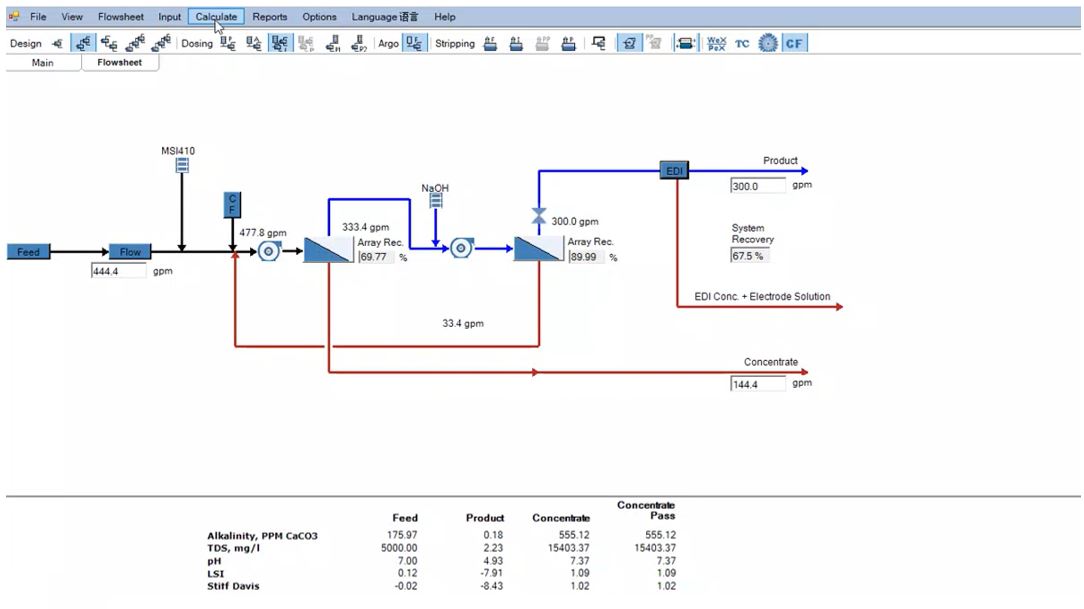 Winflows version 4.0 Features include:​ ​
High pressure elements up to 1500 psig are now available​

Ind RO Series (up to 1200 psig)​
Ind RO HP Series (up to 1500 psig)​

Winflows now includes complete E-cell projection software with stand-alone EDI design functionality​

Updated Complex flowsheet design for RO+EDI configurations​
Includes the New E-Cell* MK-7 Stacks​
Updated Temperature and pH range for all Stacks​ ​

​Option to import/export Argo Analyzer file to Winflows for comparison​
Booster pump and permeate backpressure valve now available in Winflows flowsheet​
Option of specifying feed pressures in system with more than one RO/NF unit​
Updated Filter, NF/RO element and pre-engineered NF/RO machine selection​
Hardness, Ionic Strength, and Density were added to each stream​
Winflows version 4.05 includes the following New updates:​ ​
The following elements are now re-activated and available globally:​

AG-400, AG-440, AK-400, AK-440, and AG-400 FR,34​

The following elements are also added following a portfolio expansion:

AG-90 H, AK-90 H, AG8040F 440, AG8040F-440 LE, and AK8040F 440​ ​

Updated pressure drop parameters for the high performance H-series products​
Updated flow specifications for the following elements: ​

AD-90, AE-90, AG8040F-400 LE, and AK LE series​

The following elements are now obsolete and removed:

AG-90, AK-90, AD-365, AG-365, AG-400,34, AG4040F LF, AG8040F 365 LF, AG8040F 400 LF, DuraSlick RO series, BEV-RO-LE series, MUNI RO series (excluding ULE)​ ​

The following cage and net wrapped elements are now obsolete and removed: ​

AG8040C, AG8040N 400, AK4040C, and AK8040C​ BEV-NF-400-FF is obsolete and removed. The nearest equivalent BEV-NF-FF is now added​.
Version released December, 2022​