Filtering off the weight: Change comes to FPSOs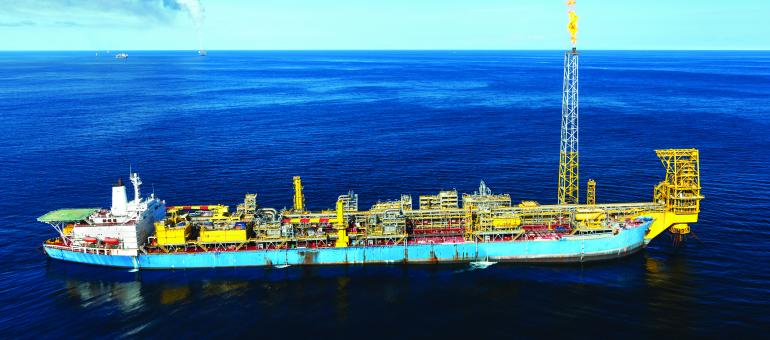 The number of floating vessels targeting offshore reserves is increasing rapidly. Oil companies have approved and budgeted for many new floating production storage and offloading vessels (FPSOs), all of which will come online in the next five to seven years. A dozen more are following close behind.
The weight of topside equipment has a significant impact on the cost of developing a FPSO. With construction activity high, lighter equipment would present significant cost savings to the industry.
But using lighter equipment often means using newer technology that has only rarely been used in FPSOs. Operators have long struggled to balance the competing risks of adapting lightweight technologies to the rigors of offshore development with the demands for cost savings.
One area in which operators have had success in reducing weight while maintaining performance is in the water treatment systems. They are turning to all-membrane systems to achieve these outcomes.
The interest in all-membrane systems comes as the oil industry is increasingly looking to standardize the design of FPSOs to speed construction, a shift from the traditional FPSO design, which were converted from older oil tankers and outfitted for project conditions.
At the same time, oil companies remain wary from the 2014 collapse of oil prices, and have been more receptive to new designs when they promise lower CapEx or OpEx.
A new project illustrates how membrane technology is being adapted for deoxygenation and sulphate removal to reduce weight and cost on FPSOs.
Sulphate Removal
In instances where FPSOs require sulphate removal units (SRUs) to reduce the risk of barium or strontium sulphate scaling, nanofiltration (NF) has served as the offshore oil sector's preferred solution.
Nanofiltration systems, which are designed to have a pore size of 1 nm, require pretreatment to remove suspended solids and contaminants prior to injection into the NF membrane. Until recently, most FPSOs have relied on media filters or cartridge filters.
Ultrafiltration, where the nominal pore size of the membrane is <0.1μm is a proven technology receiving significant attention from FPSO designers and fabricators as a pretreatment step because it is more robust and lighter in weight than conventional media filters. These factors result in measurable improvements to the lifespan of the NF system and reduce the overall risk of downtime.
Deoxygenation towers
Prior to injection, seawater is usually deoxygenated to reduce the potential for corrosion and to create an anaerobic environment that inhibits microbial growth. The vacuum towers used to deoxygenate injection water are usually extremely tall, and concentrate weights in excess of 250 tons into relatively small footprints. The weight usually requires extra reinforcement of the deck. Some vacuum towers pass through several decks, requiring special structural engineering. However, towers cannot be set too low in the structure to assure proper pump performance. That means the tower rises significantly above the deck and requires multiple levels of steel walkways.
All of these factors combine to add immense weight. In turn, this adds significantly to material costs of construction, while raising questions about whether deoxygenation towers constitute an efficient use of space. The location and height of the vacuum tower impacts the ship's center of gravity and performance in a storm, while constraining the location of the vessel's crane swing arm.
When looking at onshore operations, membranes have been used to deoxygenate injection water for decades, and the process is common to microelectronics and semiconductor manufacturers, where flow rates can be similar to offshore facilities.
At the same time, membrane deoxygenation systems offer significant weight and height advantages. Membrane systems can be as much as 80 percent lighter than vacuum towers with equivalent capacities.
Paired together, membrane-based SRU and deoxygenation assets can be constructed modularly, as was the case for Equinor's Johan Castberg FPSO, which will deploy the world's first all membrane water injection plant when it produces first oil in 2022. Together, an SRU module with membrane deoxygenation offers a broad range of benefits. At one level, they can be designed to eliminate narrow and awkward access points, and they lend a familiarity to maintenance crews. More broadly, they offer a greater degree of operational stability.
Changing customer expectations
Operators are realizing new efficiencies by partnering with a solutions provider capable of offering services ranging from technical expertise to chemical and monitoring solutions. They are finding willing partners in those with intimate knowledge of membrane plant operation and maintenance for the FPSO's seawater injection systems. These partners can offer a single point of contact for the FPSO's chemical supply.
Oil and gas producers, like others in heavy industry, are increasingly trending toward contractual service agreements. This not only allows them to focus on their core business, but can also turn variable costs into fixed ones, providing more predictability within a project.
In the foreseeable future, the sheer volumes and production needs of new FPSOs have the ability to alter business models. The possibility that the provision of membranes could be paired with a water injection plant services contract is attractive to some operators, who want guaranteed uptime and predictable costs for water injection. Such contracts might include chemical supply, digital monitoring, and contracted maintenance personnel.
Much of the available data suggests that membrane-based systems will be priced competitively on the capital end of the equation. More importantly, they will feature very favorable operating expenses.
Membrane systems have been used in onshore and offshore applications for decades. This suite of technologies has had a remarkable track record that FPSOs are only now starting to leverage. The resolution of competing priorities in the offshore oil and gas sector is leading to new ways of doing business that benefit both the operator and service companies in this sector.