Transforming an Industry: Oil & Gas Push to Improve Operations, Profitability, and Sustainability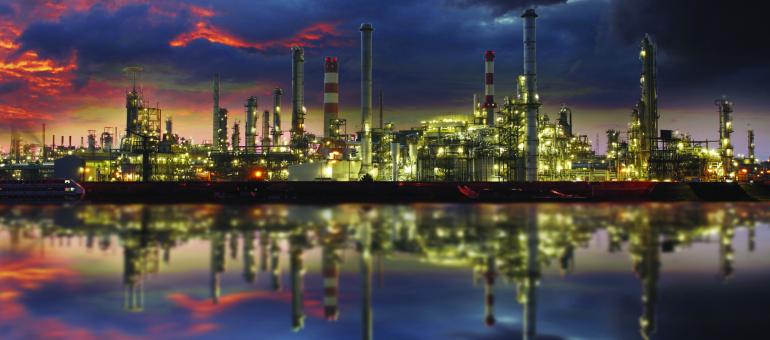 It's no secret that the downstream oil and gas industry faces several significant and simultaneous transitions. 
Environmental concerns fuel efforts to improve sustainability with new products and processes to reduce carbon intensity and lower greenhouse gas (GHG) emissions. At the same time, reduced demand for fossil fuel-derived products prompts a greater focus on improving operations and reducing costs to remain profitable in the short-term and drive further integration of oil to chemicals in the long-term. Meanwhile, years of experience are retiring from the industry, creating critical knowledge gaps and reducing expertise now when oil and gas producers need innovation the most.
Adopting sustainable practices and digital technology in the oil and gas industry offers a path forward, opening avenues to redefine performance through greater data availability, advanced analysis, and automation. Here are some items oil and gas operators might consider as they make plans to adjust.
Improving sustainability to reduce impacts
Environmental concerns are fueling efforts to improve sustainability in several ways, with new products and processes coming online that reduce carbon intensity and lower GHG emissions. 
Crude oil derived from fossil fuels has always been the starting material for gas and petrochemical products, but producers are shifting to using renewable feedstocks. For example, vegetable, seed, and waste oil, animal fats, used cooking oil and feeds from plastics recycling all offer a lower carbon impact. Still, compatibility is often challenging when integrating them with traditional fossil fuel refining systems or converting systems from processing fossil fuels to renewable feedstocks. Marathon Petroleum and Valero are two examples of companies already producing fuels from renewable resources, with plans for expansions and new plants underway.
Oil and gas production requires elevated temperatures for nearly every operation, but the feeds used and products they sell are stored at ambient temperature. Since the oil must be heated and cooled constantly throughout the refining process, there is a big focus on using less energy to do the same job. The best way to achieve this is by keeping heat transfer surfaces clean and preventing fouling in distillation tower overhead units, which minimizes the overall energy required to keep systems operating. 
Reducing water footprint is an ever-pressing challenge for the many refineries that operate in water-stressed areas. Refining oil is a water-intensive operation, using the resource to generate steam, remove heat through complex cooling systems, and remove contaminants to improve processes and final product quality. Technology investments can help refiners reduce the water required, clean it up after use to return the water to the environment in compliance with discharge regulations, and even reuse water inside the plant to reduce freshwater needs. For example, the Federated Co-operatives, Limited refinery in Regina, Canada, reduced its freshwater requirements by 28% by installing a system to purify and recycle its wastewater.
Changing demand outlook requires a focus on reliability and flexibility
As the oil and gas industry makes sustainable shifts, dwindling demand for motor fuels and increasing demand for petrochemical products are ushering in a new era.
Embracing technical advances can provide a pathway for oil and gas companies to improve operations and preserve industry expertise that can drive evolution. New process measurements, such as advanced analytics, better define performance and improve equipment uptime and reliability. In addition, technical advances can drive the digitalization of the industry to enable broader remote operations, reducing manual measurements and sampling to further reduce personnel exposure to risk.
For example, sensors can be used to replace manual lab measurements of water samples from distillation towers. The traditional method of manual sample collection, transporting to a lab, queuing for analysis, and responding with manual adjustments, causes a delayed response that can exacerbate corrosion when out-of-control conditions occur. 
Refineries can now outfit distillation towers with sensors that provide continuous data that allows teams to monitor, calculate needed changes, and make real-time decisions. Those same models with control outputs can then be used to automate system changes in minutes, not days.
The distillation tower sensors speed up data retrieval and system evaluation time for improved visibility and control, leading to longer equipment life and extended run times. Sensor technology and remote monitoring also enable less frequent maintenance and more flexibility in operations, like optimizing product yields from the same distillation tower and using various feedstocks, allowing operators to adjust to commodity prices quickly.
Changes are underway, so finding the right kind of partner is critical
Changes can be uncomfortable but leaning into these shifting trends in the oil and gas industry can take operating performance to new levels of reliability and profitability. This is precisely what the oil and gas industry is doing from all indications.
Occidental Petroleum is partnering with a Canadian build a plant that will capture and bury 500,000 metric tons of CO2 annually.In Houston, TX, over a dozen companies are collaborating to collectively capture and store 50 million metric tons of CO2 annually by 2030 and 100 million by 2040. In addition, China National Offshore Oil Corporation signed an agreement with Shell to  supply China's first imports of carbon-neutral liquefied natural gas (LNG). 
Oil and gas executives have a positive outlook for their companies and the industry to persevere through these transitions into more diversified energy companies while continuing to supply essential products that support our modern way of life. 
SUEZ - Water Technologies & Solutions (WTS) is one of the companies at the center of these transformations, developing trusted relationships with oil and gas clients to provide solutions that can:
Improve asset reliability through digital analytics and advanced corrosion management
Increase operating flexibility for both feedstock options and yield improvements
Design carbon capture and wastewater treatment systems to meet today's and future environmental demands. 
Provide chemicals and technologies that help keep heat transfer surfaces clean while also providing the flexibility to run various opportunities and renewable feedstocks through the refinery.
Learn more about how SUEZ WTS is helping our clients through these significant transitions.