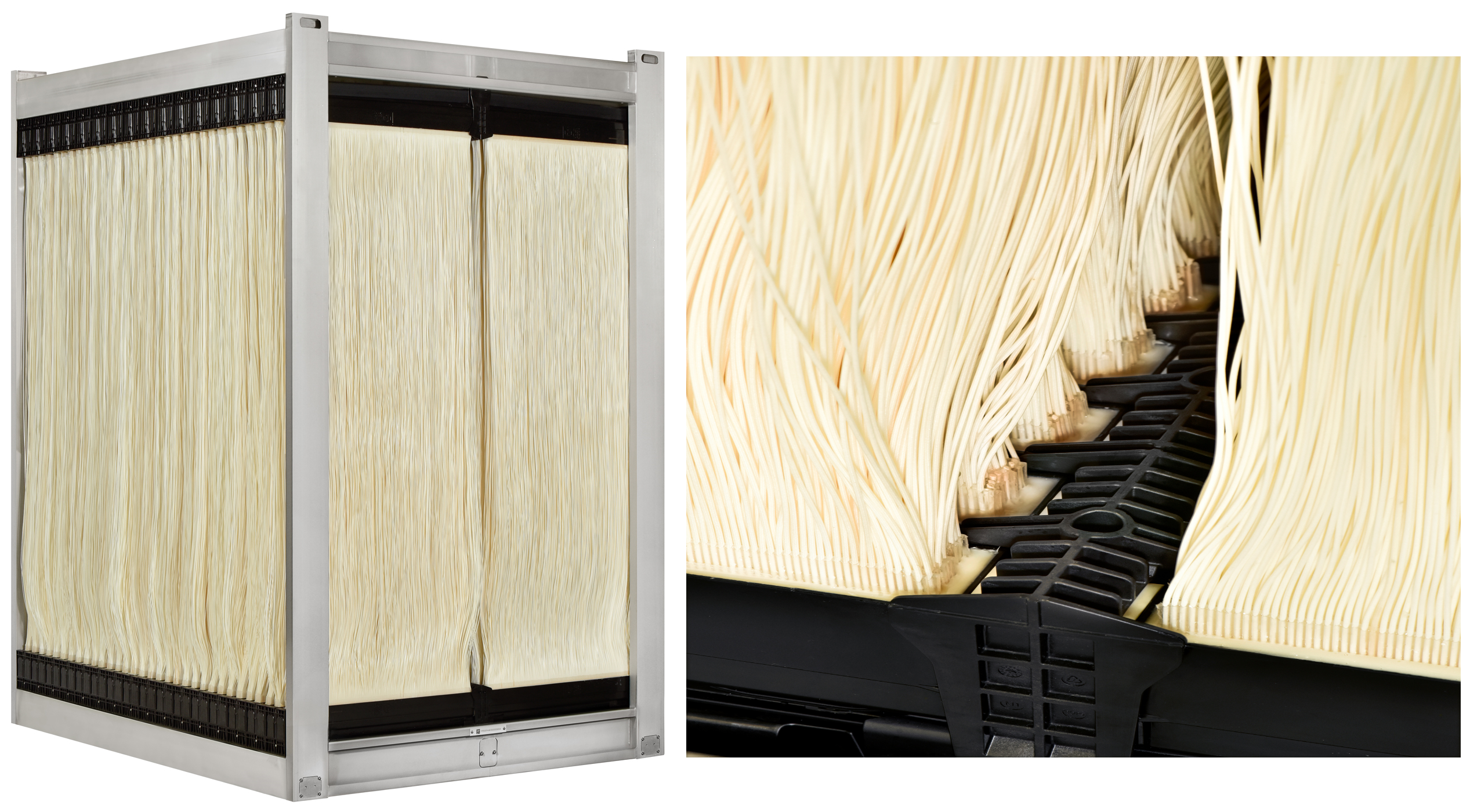 TREVOSE, PA — Water Technologies — Expanded ZeeWeed MBR helps municipalities overcome urgent wastewater challenges, enabling increased treatment capacity while reducing energy costs by 20%
Municipalities everywhere are recycling more water, with global water reuse expected to increase 37% by 2027. Veolia Water Technologies & Solutions has introduced a next-generation wastewater treatment solution, the evolved ZeeWeed 500EV. This new configuration helps large municipalities meet the urgent demand for expanding capacity, while reducing membrane tank footprint up to 50% and reducing energy costs by 20%.
The ZeeWeed 500EV configuration has been deployed in municipal wastewater treatment expansion projects across North America. With numerous customers embracing this technology, it demonstrates the demand and appeal of the upgraded capabilities of ZeeWeed.
"Our expertise in membrane technology and serving wastewater treatment facilities enabled us to expand our leading portfolio and respond quickly to the evolving needs of our customers," says Thomas Buer, Senior Vice President, Technologies & Systems for Veolia Water Technologies & Solutions. "With advanced solutions like ZeeWeed 500EV, large municipalities are now able to more fully address today's wastewater challenges while future-proofing their investments."
ZeeWeed MBR hollow-fiber ultrafiltration membranes are utilized for wastewater, and water reuse applications, as well as industrial wastewater and reverse osmosis (RO) pretreatment. They are operational in thousands of municipal, industrial, and commercial applications worldwide, and can treat virtually any raw water quality to the quality needed. The advanced technology is designed with a robust life expectancy, giving municipalities confidence in their wastewater treatment system's operation and helping them comply with regulatory requirements.
For municipalities, ZeeWeed 500EV can significantly amplify wastewater treatment. The City of Canton in Georgia, is performing a $65.9 million conversion of its Sequencing Batch Reactor (SBR) facility to a Biological Nutrient Removal Membrane Reactor (BNR-MBR) facility, utilizing the evolved ZeeWeed 500EV solution to expand wastewater treatment capacity by 75% to 7 million gallons per day.
Also in Georgia, the City of Pooler is implementing a $49 million expansion to its existing wastewater treatment plant, which has employed ZeeWeed MBR technology for nearly two decades. Their goal was to nearly double the wastewater treatment plant capacity to 6.23 million gallons per day, to accommodate population growth and increased demand. Incorporating ZeeWeed 500EV offered the City of Pooler 40% more membrane capacity in the future and reduced the membrane aeration energy by another 15%.
In Saskatchewan, Canada, as the City of Lloydminster was designing their new wastewater treatment facility, they selected ZeeWeed MBR technology because it produces high-quality effluent and provides options for alternative discharge locations, including possible water reuse. Over the course of the design process, the Integrated Project Delivery team were interested in options that would save on capital or operating costs and the ZeeWeed 500EV offered both. The membrane system upgrade required fewer cassettes resulting in lower installation costs, lower operating costs as well as expecting a 25% reduction in shipping and transportation carbon footprint for the membranes.
"As municipalities continue to grow, enabling our customers to meet the heightened demand of treating more wastewater while lowering their environmental footprint is helping drive the future of wastewater treatment and water reuse," says Buer.
Veolia Group aims to become the benchmark company for ecological transformation. Present on five continents with nearly 220,000 employees, the Group designs and deploys useful, practical solutions for the management of water, waste and energy that are contributing to a radical turnaround of the current situation. Through its three complementary activities, Veolia helps to develop access to resources, to preserve available resources and to renew them. In 2021, the Veolia group provided 79 million inhabitants with drinking water and 61 million with sanitation, produced nearly 48 million megawatt hours and recovered 48 million tonnes of waste. Veolia Environnement (Paris Euronext: VIE) achieved consolidated revenue of 28.508 billion euros in 2021. www.veolia.com
About Veolia Water Technologies & Solutions SUEZ – Water Technologies & Solutions is now part of Veolia and operating as Veolia Water Technologies & Solutions. With operations in 130 countries and over 10,000 employees worldwide, Veolia Water Technologies & Solutions solves the toughest water, wastewater and process challenges around the globe. Leveraging a comprehensive set of chemical, equipment and digital enabled services and products, the company helps customers optimize water resources and overcome process challenges. Veolia Water Technologies & Solutions serves customers across all industries, including food and beverage, metals and mining, power, pharmaceutical, oil and gas, chemicals, petrochemicals, pulp and paper, and utilities. Learn more at watertechnologies.com and connect with us on LinkedIn and Twitter.