Creating a Cleaner and Sustainable Steel Industry as Demand Rises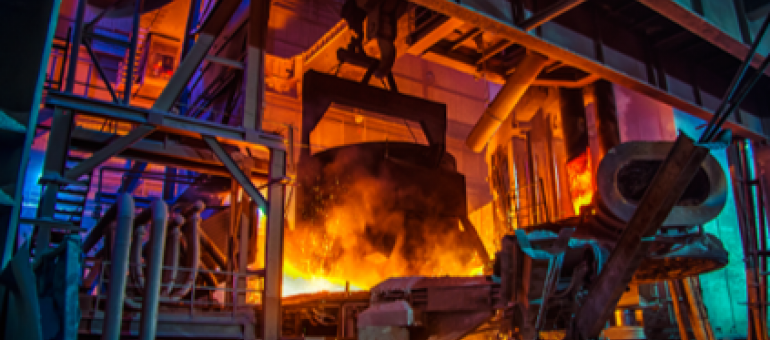 Steel is ubiquitous in modern society, forging the buildings we work in, cars we drive, and bridges we cross. As one of the primary elements in nearly every industry worldwide, the steel market is expected to expand by nearly 20% by 2028.
Although steel is 100% recyclable and a core component in many of the sustainable technologies that are critical to the green energy transition (i.e., wind turbines, solar system bases, electric vehicles generators, and motors), the industry is facing external and internal pressures to reduce its carbon footprint, from producing more carbon-friendly steel to operating its facilities more efficiently.
With the industry in transition, improving uptime and product quality while reducing water and energy usage across operations is even more necessary.
Times have changed for steel mills
The steel industry is undergoing a generational perception shift as customer requirements evolve, carbon emission regulations for producers tighten, and interest in sustainability among investors and customers continues to grow.
Many North American steel producers have started converting from the traditional blast furnaces of integrated steel mills to electric arc furnace (EAF) technology. This enables steel to be made from almost 100% scrap metal feedstock and significantly reduces steel's carbon footprint and water usage.
Plants with EAF technology, also called "mini-mills," have popped up all across North America, with nearly 200 in operation. They are traditionally smaller in operation, require fewer resources, reduce costs, and offer additional operating flexibility since they can be rapidly started and stopped to adjust output to demand.
Still, a dozen or so integrated steel mills are currently operating in North America. Legacy integrated steel mills are 5-10 times larger than mini-mills and capable of producing more than one million tons of steel annually from raw iron ore.
Though the legacy steel mills, which generate coke oven gas and typically have larger boiler systems, hold a bigger opportunity for decarbonization, there are a few ways both mini-mills and integrated mills can improve their overall operating efficiency (and therefore reduce their environmental impact).
How steel mills can operate cleaner and more sustainably
Like many other industrial plants, process heating and cooling accounts for a large portion of energy demand in the steel-making process, and the input fuel represents a costly and recurring operational expense.
Keeping boiler systems, heat transfer equipment and cooling water systems clean will increase the plants' overall operating efficiency and cycles of concentration, leading to reduced fuel and water usage. This can be done by using influent water treatment systems to remove dissolved solids and additive chemicals to control deposition, corrosion, and microbiological growth.
Digital monitoring and automation tools can provide added control and visibility into the performance of systems and help optimize chemical, water, and fuel usage based on real-time data and predictive modeling.
Steel mills can also minimize their water consumption and fugitive air emissions by spraying dust control binding agents on the facilities' unpaved service roads. Unlike the traditional method of spraying copious amounts of water on service roads for short-term dust relief, dust control binding agents can reduce the watering requirements by up to 90%, decreasing both water usage and CO2 emissions from water spray trucks, while improving fugitive dust emissions. These environmentally friendly additives can not only help save water and reduce air pollution, but they also help keep equipment and vehicles free of dust, reducing maintenance costs.
It is vital to create efficiencies while reducing the environmental footprint Regulatory, environmental, and financial challenges are daunting enough. With supply chain disruptions and geopolitical concerns continuing beyond the pandemic, it is more important for North American steelmakers to increase output and meet homegrown demand.
With chemical and equipment solutions to help manage water and operational needs, mill costs can be reduced to generate greater efficiencies, maintain reliability, and improve production quality while lowering steel mills' environmental footprint.
Learn more about how SUEZ Water Technologies & Solutions can assist your organization with steel industry solutions here.