Membrane Antiscalants & Antifoulants
Eliminate scale and reduce fouling in your membrane systems
RO systems create salt concentrated water streams that could produce scale or fouling. SUEZ's RO membrane antiscalants are pretreatment programs designed to eliminate scale and reduce fouling in membranes systems, regardless of the feedwater source.
While treatment with an ordinary antiscalants does provide some improvement, the use of SUEZ's patented chemistry maximizes efficacy against a broad range of scale-forming substances and keeps fouling material in suspension.
Featured Products
Antiscalants
Antiscalant Dosing
Case studies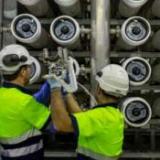 A North American chemical processing facility has a zero-discharge waste permit to the local watershed.