Celebrating International Women in Engineering Day at Veolia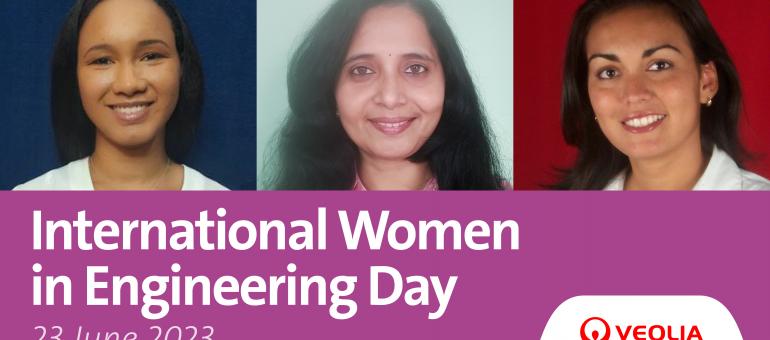 In celebration of International Women in Engineering Day (#IWED23), we are spotlighting some of our female engineers and their extraordinary work at Veolia Water Technologies & Solutions. IWED23 aims to celebrate the achievements of women in engineering while raising their profile and encouraging young girls to explore STEM careers. Here at Veolia, we are proud that our Engineering teams are made up of female engineers who help innovate and design technology that shapes the water industry's future.
Meet Cyan Lue Sue (Commercial Manager, Caribbean), Alka Deshpande (Engineering Manager, Customer Applications), Carla Casanova (Sales Manager, ES Services)– a few of our female engineers at Veolia that deliver excellence for our customers every day and inspire future engineers.
Why did you choose engineering as an area of study and a career path? 
Cyan: I was raised in a household where curiosity was encouraged. My father worked in construction, and my mother loves all things art and crafts. When I graduated high school and had to decide on a major, those experiences influenced a clear path that led to Engineering, but which type was the big question. I knew I enjoyed using my hands to create and was keenly interested in how objects, vehicles, products, etc., were made. Through conversations with various Engineers, experts, and counselors, I found that Mechanical Engineering suited me best.
Alka: I was fortunate to study in a school with visionary teachers who believed in applied education and equal opportunities for both boys and girls. Our school had technical subjects from class VIII, where we were taught basic electrical engineering and machine drawing. This early introduction to engineering created curiosity and interest, and I decided to pursue engineering for my further studies. I am now a chemical engineer. My engineering institute had one year of compulsory plant training, which connected us with the industry, and through campus, I got selected by India's leading water treatment company, and that became my career path.
Carla: Math and chemistry were my favorite subjects in school, so I wanted to study something that has both involved.
What are your hopes for the future of Engineering?
Cyan: As the first to pursue a bachelor's degree in my family, I hesitated to commit to Mechanical Engineering as it was labeled as tough and difficult. As a female entering a traditionally male-dominated space, I was intimidated. Now that I have been submerged in the space, my experience has been uplifting. Recently, there has been focused energy on inclusion and diversity throughout all sectors. I hope that women feel encouraged and empowered to pursue engineering and continue making a mark in the industry.
Alka: Engineering is the backbone of the material development of human society, so engineering will always have a great future. Future engineering will surely be more focused on automating repetitive and laborious activities. Engineering will contribute to solving the most challenging healthcare issues through super-efficient diagnostic and treatment equipment. While we would touch newer heights of communication, data processing, and AI every day, the sky seems to be the limit for engineering. Engineering will play a huge role in the in- planet and interplanetary transportation. The world will be far different from what it is today in the near future, and engineering will play a leading role in it, even in solving the most pressing environmental issues.
Carla: I have lived in different countries across my career within GE Water / SUEZ / Veolia and have seen women's participation in scientific careers vary. In my opinion, family and culture play a big part in this. In my family, we are three sisters and one of my sisters and I are both engineers, so my family played a significant role in our decision. They taught us we could study whatever we wanted and supported our decision. I want to see more women in engineering and strongly believe that message should be shared early in childhood, empowering girls to be professionals and independent.
What would you say to girls in school/college who may be considering Engineering as a career choice/study option?
Cyan: Be confident in your capabilities and know the value you bring. There is always room at the table.
Alka: Engineering is a very promising career option. It is full of creativity, challenging, and a satisfying career option because it allows you to connect with the larger purpose of serving humanity. Millions of engineers working across the world are engaged in making things easier and better for human society, so engineering as a career option is a path to a satisfying and rewarding career.
Carla: I would like to say, "You can do it; you just need to be focused and determined." Also, you can do many things and hold various positions, as engineering is present in every part of our lives.
What's the key message you'd like to get across for Women in Engineering Day?
Cyan: Again, I would stress to be confident in your capabilities and know the value you bring. There is always room at the table.
Alka: First, nothing should hold us back as a woman from selecting and pursuing engineering as a career path. Women are equally capable. We can similarly enjoy the fun of working on the most challenging technical issues of the world and contribute to solving them. So, go for it if you like it.
Carla: Being an engineer is one of the best decisions I have made in my life.