How Climate Change Impacts Water Infrastructure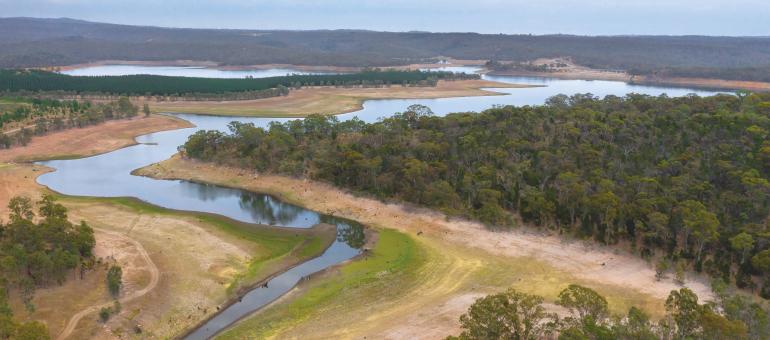 By late June, Canadian wildfires had already burned 19.8 million acres, an area larger than the Czech Republic. The smoke billowed throughout the country and into the United States, bringing air quality concerns for hundreds of millions of people. In August, Maui, Hawaii is reported to have the deadliest U.S. wildfire in more than a century.
These fires are another indication of climate change, which affects not only forests but built infrastructure like water systems.
Experts believe climate change is creating more severe weather events — the US Environmental Protection Agency (EPA) reports heat waves now occur three times more often than in the 1960s, 20-70% of the US was at least "abnormally dry" between 2000 and 2020, and intense single-day precipitation events have increased dramatically since 1996.
Most of our water infrastructure was designed based on 100-year weather event data as a condition, but now that extreme weather events are happening more often, we need to challenge this approach to increase our infrastructure's resiliency. Many water resource recovery facilities are future-proofing with higher design flows to accommodate the increase of extreme rainfall events. In many cases, existing infrastructure is not able to manage the new design conditions.
Peak flows challenge a treatment plant's hydraulics. The secondary clarifier, which uses gravity to separate solids from water, can become overwhelmed and lose the bacteria that are necessary to biologically treat the water.
Climate change doesn't just mean too much water; it can also mean too little. According to the World Wildlife Federation, an astounding 66% of the global population will likely face water scarcity by 2025. Municipalities increasingly need to diversify their water sources to serve their residents.
The unpredictability of extreme weather events impacted by climate change, and the increase in frequency and severity, requires water systems to be prepared for both extremes – too much & too little water - with a heightened sense of urgency. As the UN has noted, "water and climate change are inextricably linked."
How municipalities can increase the resilience of their water infrastructure
Increasing resilience includes strategies like water reuse or diversification as well as leveraging technology as an important component of creating water infrastructure that is sustainable and environmentally responsible.
For instance, membrane bioreactors (MBRs) can enable water reuse by producing tertiary quality effluent in a single treatment stage. MBR has been used for more than 20 years to upgrade existing conventional activated sludge plants for reuse. In areas that are prone to drought, this technology is instrumental.
However, that regional context is important because there are no silver bullets. A facility in the Northeast of the US, for example, may be more likely to deal with peak wet weather events and need to increase capacity. A membrane-aerated biofilm reactor (MABR) could help efficiently deliver oxygen to an overwhelmed biological reactor through molecular diffusion without using bubbles.
These technologies are modular and can be implemented as needed. This has influenced the design of modern water resource recovery facilities to value flexibility so they can accommodate changing needs or conditions. Without that agility, facilities get locked into decisions they make today for their built infrastructure. The environmental situation will undoubtedly change, and technology will evolve, so finding ways to ensure water systems can accommodate those changes is important.
Energy use also a consideration
The US EPA reports drinking water and wastewater plants account for 30-40% of energy consumption within a municipal government and add more than 45 million tons of greenhouse gases (GHG) annually. Many facilities were built when energy was cheap and availability was abundant, but the forecast looks different now.
The US Federal Energy Management Program, among other initiatives, incentivizes utilities to reduce energy consumption and impacts how solutions are designed. A typical water resource recovery facility has direct methane and nitrous oxide emissions that have a significant contribution to their carbon footprint. Certain regions are beginning to measure and regulate these emissions.
Facilities can take a proactive approach and reduce GHG emissions by implementing sustainable solutions and reducing their impact on the climate change that has altered the context of their operations.
How Veolia can help
At Veolia Water Technologies & Solutions, we take responsibility to accelerate sustainability and support customers with making decisions that solve treatment needs and consider overall impact on the environment. This belief is at the core of our product innovations.
Our ZeeLung* MABR maximizes the biological treatment capacity from existing activated sludge tank volumes while reducing energy consumption, giving water systems tremendous ROI. The Yorkville-Bristol Sanitary District (YBSD) chose this solution and increased its organic treatment capacity by 45% within its existing footprint, creating a 75% CAPEX savings.
zeeDENSE* is a state-of-the-art application that pairs ZeeLung MABR and continuous flow densification technology for super-intensification of activated sludge plants. This allows facilities to take the next step in maximizing the treatment capacity of their existing footprint.
ZeeWeed* MBR provides a physical barrier to suspended solids and pathogens, enhancing the quality of a facility's effluent. The Federated Co-operatives Limited's Co-op Refinery Complex (CRC) in Regina, Saskatchewan, selected ZeeWeed as part of its solution and reduced its freshwater needs by 28%, equivalent to the usage of about 3,100 local households each year. The facility also vastly reduced its environmental footprint by reducing emissions from volatile organics in its wastewater ponds.
These are just a few of the sustainable solutions Veolia has created from decades of research and experience. Contact one of our specialists, who can determine the best design and solution for your facility.