How ZeeLung MABR Expanded a Wastewater Treatment Plant's Capacity Within Existing Infrastructure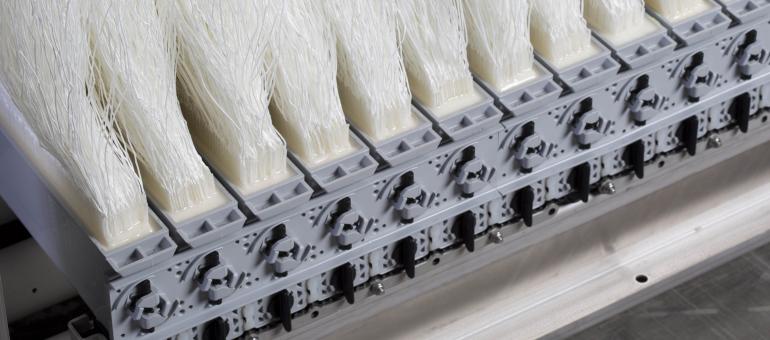 Yorkville, Illinois, a suburb 30 miles west of Chicago, was burgeoning. Its county's population surged three-fold from 1990 to 2012. Yorkville's wastewater treatment facility, the Yorkville-Bristol Sanitary District (YBSD), which serves 22,000 citizens, was built in 1957, and had last expanded in 2002. When new industries were planning to move into the city in 2017, YBSD needed to upgrade in order to accommodate them.
The community also faced a new phosphorus effluent target of 1.0 mg/L and the increased population created challenges. With newer construction, there were tighter sewers, low-flow fixtures in homes, and additional garbage disposals impacting the wastewater characteristics and straining the plant. Typically, when facilities face capacity constraints they expand, but because this site sits on a five-acre peninsula between the Fox River and Blackberry Creek, expansion was so costly it wasn't viable.
That's when Veolia Water Technologies & Solutions stepped in to provide an ecological transformation that didn't require the YBSD to increase its footprint. 
YBSD's existing plant was a conventional activated sludge system that included bioreactors and clarifiers, with the aerated bacteria in the bioreactor and solid-liquid separation in the clarifier, which returned the bacteria to the bioreactor. This is the same process used by the overwhelming majority of wastewater treatment facilities. 
Conventional wastewater treatment leaves plenty of room for optimization — only 15% of the oxygen delivered by bubbles actually gets used by the bacteria. What's worse, the aeration process uses a hefty 60% of the energy in a wastewater treatment plant. Veolia's ZeeLung* solution is a membrane-aerated biofilm reactor (MABR), which delivers oxygen through molecular diffusion and doesn't require bubbles. 
Implementing this technology allowed YBSD to increase its organic treatment capacity within its existing footprint. This resulted in a CAPEX savings of 75% less than expanding the facility past Blackberry Creek, which saved YBSD rate payers' pockets. YBSD also delivered on the new phosphorus target, and the design and construction process took only 16 months, far less than what expanding the facility's footprint would have.
How ZeeLung MABR works
MABR technology replaces the bubbles used in the conventional wastewater treatment process. It uses a gas-transfer membrane to transfer oxygen to the bacteria, creating a biofilm that metabolizes the nutrients in the bioreactor, which works in concert with the clarifier to complete the treatment process. This solution is attractive for facilities that need to expand capacity or achieve better treatment objectives because it doesn't require the land and time commitments of physical expansion and is more cost effective than a conventional upgrade, squeezing more capacity out of the assets that make up the existing infrastructure.
ZeeLung cassettes are placed in the bioreactor tank. The ZeeLung media supports the growth of a biofilm that increases the capacity to remove nutrients within the system and doesn't increase the mixed liquor concentration. ZeeLung's media transfers oxygen to the biofilm far more efficiently than the conventional process and doesn't waste energy creating bubbles. Since pollutants enter the biofilm from one side and oxygen the other, the system favors the growth of nitrifying bacteria. 
Veolia has more than 25 ZeeLung plants in full-scale design, construction, or operation around the world. YBSD was the first full-scale implementation in North America and is still creating value. ZeeLung's process intensification creates up to 50% more treatment capacity in existing tank volumes and up to 75% aeration energy savings. 
Continuing to innovate
Veolia is at the forefront of innovating new technologies to create cost-saving, sustainable solutions for customers. As we expand our portfolio of clients using ZeeLung MABR technology, we're coupling that technology with others for new ecological transformations. 
zeeDENSE, one of Veolia's latest innovations, combines ZeeLung MABR with continuous flow densification technology so activated sludge plants can achieve super-intensification. This application is now in demonstration in Yorkville — it conditions the bacteria to settle faster and enables utilities to treat more volume in existing clarifier tanks. Since the YSBD partnership with Veolia began in 2017, it has realized significant cost savings and improved results, making the decision to expand with new technologies an easy one.
Watch this recent webinar and learn more about why MABR technology adoption is increasingly the answer to solving water treatment challenges and see how our experts are finding transformative ways to solve complex issues with our breadth of solutions.