Pride Month Employee Spotlight: Michele Mazakas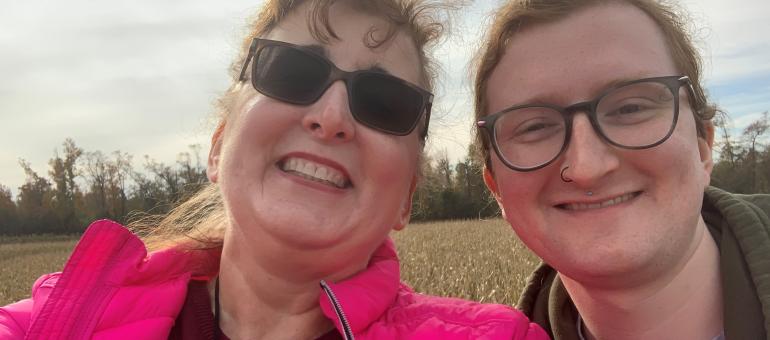 SUEZ Water Technologies & Solutions (WTS) focuses on creating and promoting inclusive work environments for our employees. We have nine employee resource groups (ERGs) that provide a sense of community for like-minded employees, offer personal and professional growth opportunities, and sponsor educational and informational sessions to inform and inspire a broader audience on topics relating to inclusion & diversity (I&D).
During this Pride Month, we're highlighting Michele Mazakas, who serves as co-lead for the North American (NAM) chapter of our LGBTQ+ Alliance. LGBTQ+ advocacy is a passion of Michele's. She and her family enjoy Pride festivals and have marched in the Philly Pride Parade thrice. In addition, Michele and her oldest child speak to school administrators at libraries, churches, and local workplaces about their journey and the importance of LGBTQ+ support (social, medical, and legal).
We caught up with Michele to discuss her role, connection to the LGBTQ+ community, and work within the company's LGBTQ+ Alliance. Here's what she had to say:
What is your role at WTS and your priorities in that role?
I am a Product Operations Manager for the Chemical Monitoring Solutions (CMS) business. I have systems knowledge, allowing me and my team to implement solution architects' strategic initiatives and facilitate the introduction of the PQ and new chemical products. In NAM, I am are often asked to negotiate the maze of requirements needed to bring a formulation to the point of being ready for sale. In addition, I am responsible for the final book pricing and activation of all NAM chemical products. I also coordinate global CMS Product Operations procedures and assist with product rationalization, cost savings projects, and NAM renewals.
Tell us about the LGBTQ+ Alliance and why you got involved with the group.
After my oldest child came out as transgender and pansexual, I was looking for support and a community, which I found through PFLAG and the LGBTQ+ Alliance. Not long after joining the Alliance, I was asked to co-lead. This has afforded me a platform to help educate allies about the community and foster an increased understanding of gender identity.
What are you most excited about as it relates to the LGBTQ+ Alliance?
The LGBTQ+ Alliance continues to spread its message of allyship and support for this marginalized community. Chapters are beginning to spread past NAM (starting soon in Europe and MEA), making it a global movement. As a result, we are having more meaningful conversations, which leads to a deeper understanding of how we are different than others and how alike we are.
Why is visibility/representation important in the workplace?
I work with the LGBTQ+ Alliance to help create a work environment where everyone can be their most authentic self. Authenticity leads to people being more productive and efficient, which benefits them, the people they work with, and the company.