OptiSea* for Seawater Cooling Systems
Maximizing operational efficiency and environmental conservation in seawater cooling systems
The high ionic strength of seawater, variation in composition and suspended solids globally, and high growth rate of macrofouling organisms all contribute to why seawater cooling systems require specialized modeling, treatment, and monitoring systems. 
To ensure peak production, especially in systems with plate and frame heat exchangers, OptiSea effectively models high ionic strength seawater, provides deposition and suspended solids control, and monitors deposition accumulation and heat transfer performance in real-time. All while optimizing chemical usage with three layers of supervisory monitoring and control protection.
Product Highlight
OptiSea Chemistry
Heat Exchanger Monitoring
Features & Benefits
Case Studies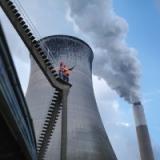 An 890 MW natural gas combined power plant located near the Black Sea coast was using seawater in their once-through cooling system to reject the heat from two steam condensers.